5.2.3 The Southern Annular Mode
The equivalent of the NAM in the Southern Hemisphere is the Southern Annular mode (SAM). Various definitions of SAM have been proposed: a convenient one is the normalised difference in the zonal mean sea-level pressure between 40 oS and 65o S. As expected, the sea level pressure pattern associated with SAM is a nearly annular pattern with a large low pressure anomaly centred on the South Pole and a ring of high pressure anomalies at mid-latitudes (Fig. 5.8). By geostrophy, this leads to an important zonal wind anomaly in a broad band around 55oS with stronger westerlies when SAM index is high.
Figure 5.8: Regression between the atmospheric surface pressure and the SAM index for the period 1980-1999 in Pa for (top) the averages in April, May, and June and (bottom) July, August, and September. Data from NCEP-NCAR reanalyses (Kalnay et al. 1996).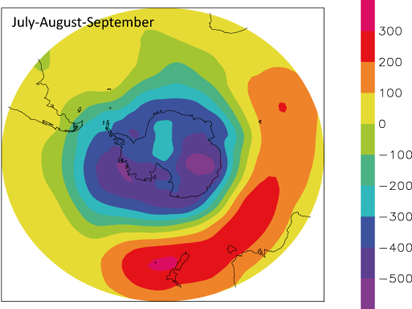 Due to the southward shift of the storm track, a high SAM index is associated with anomalously dry conditions over southern South America, New Zealand and Tasmania and wet conditions over much of Australia and South Africa. The stronger westerlies above the Southern Ocean also increase the insulation of Antarctica. As a result, there is less heat exchange between the tropics and the poles, leading to a cooling of the Antarctica and the surrounding seas. However, the Antarctic Peninsula warms due to a western wind anomaly bringing maritime air onto the Peninsula (Fig. 5.9). Indeed, the ocean surrounding the Antarctic Peninsula is in general warmer than the Peninsula itself and stronger westerly winds mean more heat transport onto the Peninsula. Over the ocean, the stronger westerly winds tend to generate stronger eastward currents. Furthermore, the divergence of the currents at the ocean surface around 60oS is enhanced because of a larger wind-induced Ekman transport. This results in a stronger oceanic upwelling there.
The majority of the effects of SAM could be explained by its annular form and the related changes in zonal winds. However, the departures from this annular pattern have large consequences for sea ice as they are associated with meriodional exchanges and thus large heat transport. In particular, a low pressure anomaly is generally found in the Amundsen Sea during high SAM-index years (Fig. 5.8). This induces southerly wind anomalies in the Ross Sea (Pacific sector of the Southern Ocean) and thus lower temperatures and a larger sea ice extent there (Fig. 5.9). On the other hand, because of the stronger northerly winds, the area around the Antarctic Peninsula is warmer when SAM index is high, and sea ice concentration is lower there .
Figure 5.9: Regression between (top) the sea ice concentration in % (data from Rayner et al. 2003) and (bottom) the surface air temperature in oC (Kalnay et al. 1996) and the SAM index for the averaged over July, August, and September for the period 1980-1999.
---