M
---
Melt ponds are pools of water that form at the surface of sea ice in spring and summer mainly in the Arctic. They occur because of the ice and snow melting. They have a lower albedo than the ice and have a significant influence on the surface heat balance. See section 4.2.3.
Melt ponds at the surface of Arctic sea ice. The boat in the upper left corner provides a rough scale to the figure.
Source:
http://psc.apl.washington.edu/arctic_basin/field2005/westward.html
. Photo D. Perovich, reproduced with permission.
The adjective meridional refers to the north-south direction. The meridional transport (of mass or heat for instance) is a net transport from one latitudinal band to another, either northward or southward. See sections 1.2.2, 2.1.5.2 and 2.2.
The meridional overturning circulation (MOC) of the ocean is a circulation defined in the latitude-depth plane. It is represented by a stream function obtained as the integral of the velocity between the east-west boundaries of the oceanic basin and from the surface to the depth considered. The MOC in the Atlantic is often related to the thermohaline circulation but the difference should be kept in mind as the MOC also includes shallow wind driven cells, such as the one observed in the equatorial regions.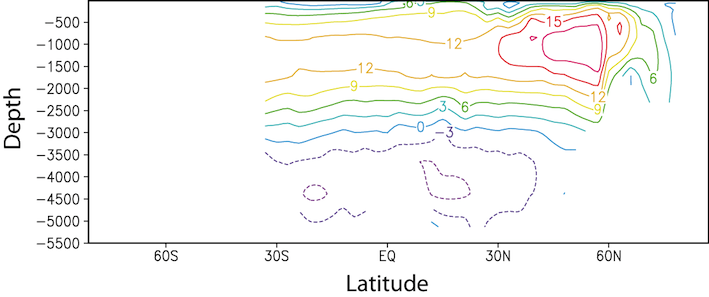 Meridional overturning stream function (in Sv = 10
6
m
3
s
-1
) in the Atlantic for present-day conditions, as given by the climate model LOVECLIM. By convention, solid contours show clockwise flows and dashed contours (corresponding to negative values) show anti-clockwise flows. The values plotted at a particular depth represent the mass (actually the volume) transported between the surface and the point considered. For instance, there is a northward mass transport with a maximum value of about 13 Sv at 30°S over the top 1400 m of the Atlantic. Below this depth, the transport is southward while close to the bottom, the transport is northward again. This figure also shows a large sinking (downward mass transport) in the North Atlantic.
Metamorphism is changes in solid rocks caused by changes in temperature and pressure. See sections 2.3.4 and 5.3.2.
The moisture availability function is an estimate of the fraction of water that can be evaporated from a surface, compared to a wet surface at the same temperature and in the same atmospheric conditions. It is defined by the ratio between the evaporation rate of the given surface (E) and the potential evaporation (Ep), i.e. the evaporation that would occur on a wet homogenous surface such as a lake:
A monsoon is a seasonal reversal of surface winds and their associated precipitation, caused by the differential heating of a land mass and its adjacent ocean. See section 1.2.2,1.2.3, 4.3.3 and 5.5.1.
---